Create a Google Meet Session in Meet
If you need a quick answer from a team member, you can start an instant meeting in a web browser. If someone sends you a meeting link URL, click the link to join the call.
Note:
You can send the meeting link to people outside the school district meaning that staff and parents are able to connect using this method.
Log in to Google Meet with your sb320.org email address.
Click Join or start a meeting. If desired, enter a nickname for your meeting in the box. Otherwise, leave blank and click Continue.
Click Join now to enter the Meet session.
To add participants to a meeting, choose an option from the pop-up when entering the session: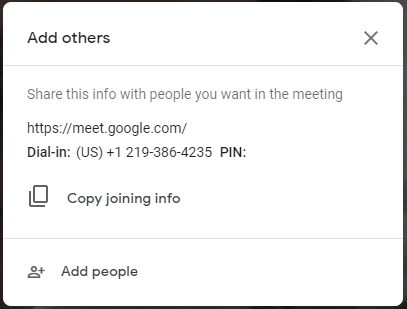 Click Copy joining info and paste the meeting details into an email or another app.
Click Add people and choose an option:
Important: There is a limit of 10 participants you can invite via meet.google.com. This can be bypassed by using a Google Calendar event to invite users to the Meet session. See "Schedule a video meeting in Calendar" below for more information.
Under the Invite tab, enter an email address or select from the list of suggestions. When done, click Send email.
Note: A pre-defined email from Google is then sent to the invitees with instructions to join the video meeting.
Under the Call tab, enter a valid phone number and click the green circle phone icon to call the number.